Bitrix24

is all that is needed for the well-coordinated work of the company
36 instruments. SaaS or Self-hosted. Professional implementation.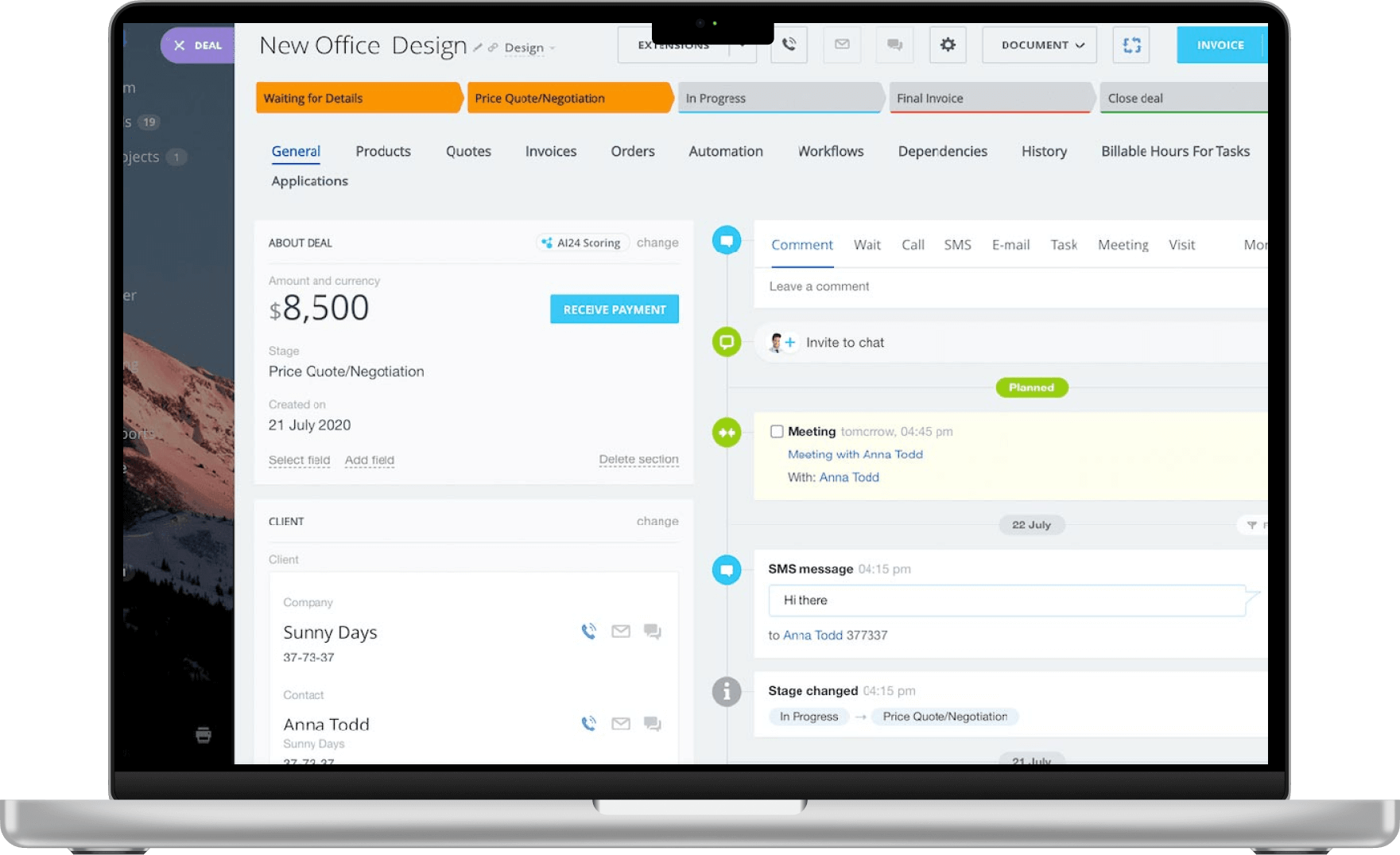 36 instruments in one place.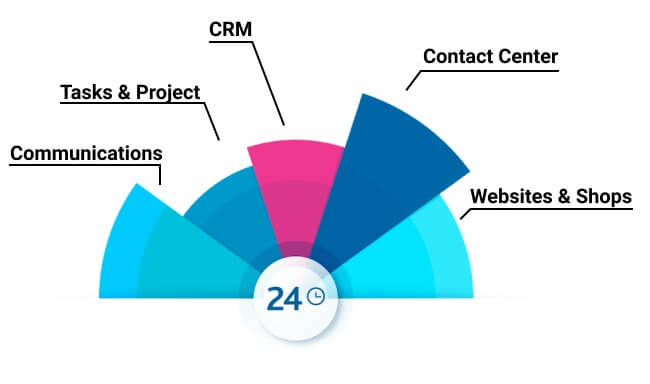 Corporate portal Bitrix24 is when all the tools are in a single place, which allows you to manage the company centrally. The Bitrix24 system has a very rich functionality, which is both a plus, since it covers all needs, and a minus, since it is problematic to study and use all the functionality correctly. Our company is a Certified Gold Partner of Bitrix24 and is engaged in training and integrating Bitrix24 for clients so that their business correctly and fully uses all the functionality of Bitrix24. Our key advantages: we design and develop our own projects (we understand business), we use Bitrix24 ourselves (we do not recommend what we ourselves do not use) and we develop Bitrix24 applications (we know the technical "kitchen" from the inside and we can implement any task).
CRM
Tasks
Online office
Telephony
Social networks and messengers
Website and store
Integration
CRM
All communications with the client get and are recorded in CRM, the order is carried out through the funnel in automatic or semi-automatic mode, CRM itself will tell you what to do and determine the probability of the transaction (AI scoring). Sales and customer reports are available.
CRM marketing (SMS, emails, targeted ads, etc.) helps resell and increase customer loyalty, and end-to-end analytics will determine the effectiveness of advertising channels.
Selling more is easy!
Tasks
Work together on tasks and projects, keep track of time, costs, plan the order of tasks. Tasks are available in a list, kanban or gantt. There are checklists, task templates, HelpDesk and automation. Convenient and accessible from any device!
Fix all tasks in Bitrix24, they will be completed!
Effective work
Online office
A single company space for working in the office or from home: news, chats, video calls, Bitrix24. Disk, Google.Drive, calendar, groups, work reports, WiKi, voting, business processes (invoices for payment, vacation, signature of the EDS, etc.), accounting of finance and other tools. Works from browser, desktop and mobile applications!
And if something is missing, we can always customize the finished application or develop from scratch for you!
Well-coordinated teamwork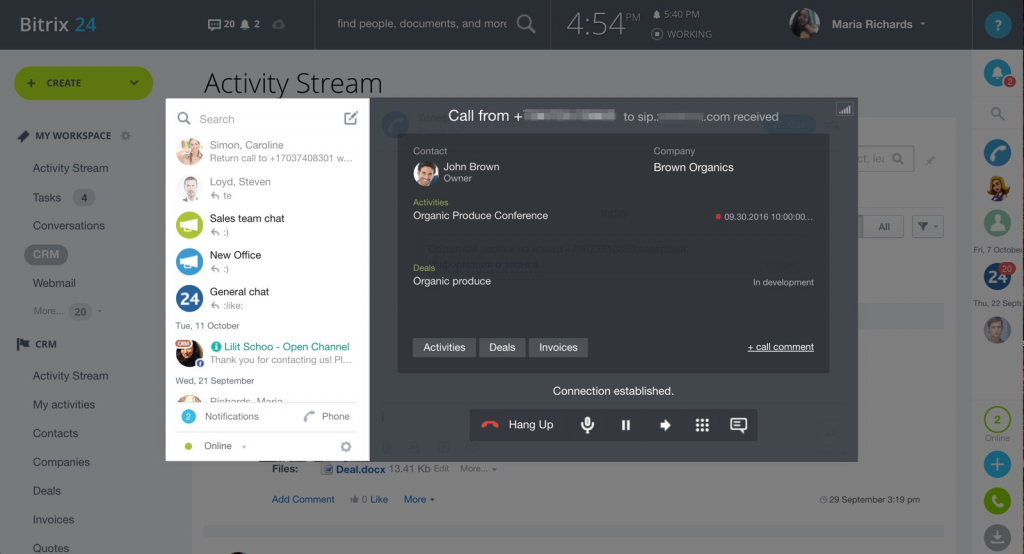 Telephony
Bitrix24 allows you to connect telephony to identify the client and view his card (name, purchase history) right during the call. All conversations are recorded. You can connect your PBX, rent a number in Bitrix24 or connect a SIM card. After connecting, reports will become available to monitor the effectiveness of managers.
In addition, we set up Call-tracking if you need to identify the client's source (contextual advertising, SEO or advertising on a specialized portal) by call. You will know exactly where the client came from, how much it cost you and how much money it brought (end-to-end analytics).
Let's connect telephony and Call-tracking
Social networks and messengers
Has the client clarified the price on Instagram, asked a question in telegram, left a review on Facebook or requested a commercial proposal by mail? All requests will go to Bitrix24 for the responsible manager, and the history of interaction will remain forever! No need to switch and monitor all communication channels. And yet, it is very convenient and you can draw up reports.
Bitrkis24 allows you to connect regional delivery services, marketplaces and other communication channels. Agree, it is convenient to receive an order from Rozetka directly to CRM, call from a client card and issue a TTN of New Mail in 1 minute? Our company has developed more than 10 different ready-made modules (New Mail, UkrPochta, Rozetka, Prom.ua, Epicenter, etc.).
Let's connect telegram, instagram, rozetka, etc.
Website and store
On Bitrix24, you can easily create a landing page for a promotion, create a small corporate website or a full-fledged store. On boxed version of Bitrix24 professional online stores are created (own projects we do just that, example).
f you already have a ready-made store or website, we can integrate with Bitrix24, so that all orders and goods are included as LEADS or Transactions.
Developed package offer «eCommerce Bitrix24», which includes all integrations (sending conversions, website integration, Rozetka, New Mail, UkrPoshta, Instagram, Telegram, payment by link etc.) and setting up Bitrix24 for online trading.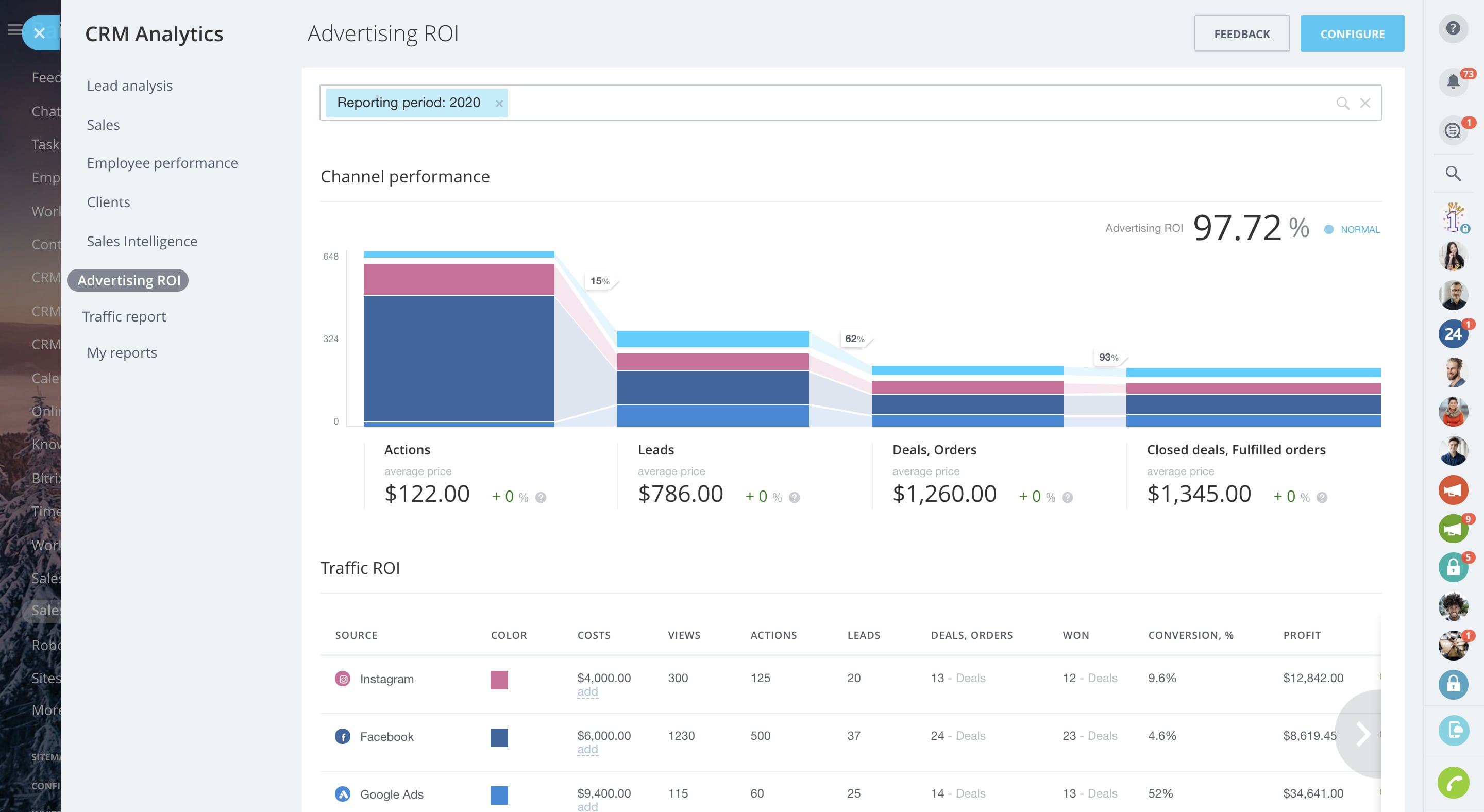 Integration
Bitrix24 is already integrated with most services: SMS messaging, telephony, 1C / BAS, payment services, etc. More integrations are available through the marketplace.
Our company is a developer of Bitrix24 applications and has a wide a line of ready-made integrations (integration with sites, Google Analytics, Facebook, Google Drive, Rozetka, New mail, accepting payments, financial Accounting, job sites, etc.). If there is no ready integration, we can develop it especially for you!
More than 10 000 000 companies around the world are already using Bitrix24!
30
days as a gift by the time of purchase
When implementing Bitrix24 and purchasing a tariff through us, we give a month of the tariff for implementation! Thus, buying a Bitrix24 license through us, you not only get free implementation, a 20% discount, but also for 13 months instead of 12!
P.S. This is not a demo period, but an additional bonus upon purchase.
How to buy a license profitably
Leave a request or write to the messenger
Personal manager make a presentation of Bitrix24 and selects a optimal tariff
We send the commercial proposal and invoice, you pay the tariff
You get a discount for an annual subscription, bonuses for implementation, free Bitrix24 setup
About us
We specialize in developing complex projects on Bitrix24: we configure Bitrix24 for your company, program business processes, create a sales funnel, implement telephony, integrate with other services, create missing functionality.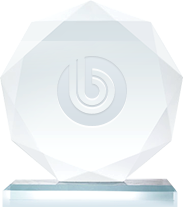 Gold Certified Partner
AWS Certified
Marketplace Developer Rating
Certified Laravel Developer
Discuss your project needs with us. Drop a line to
bitrix24@flamix.email
Bitrix24 Gold Partner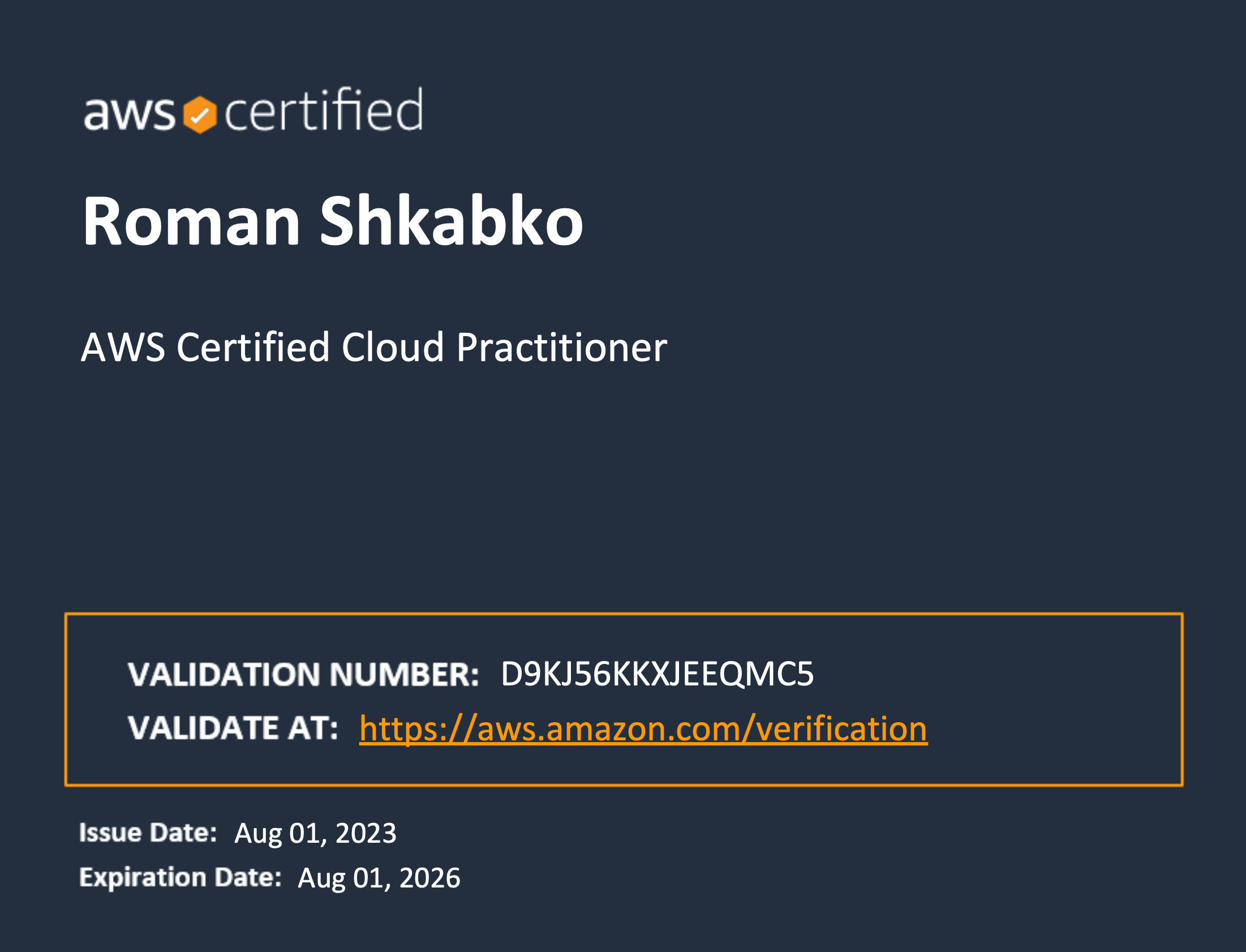 AWS Developer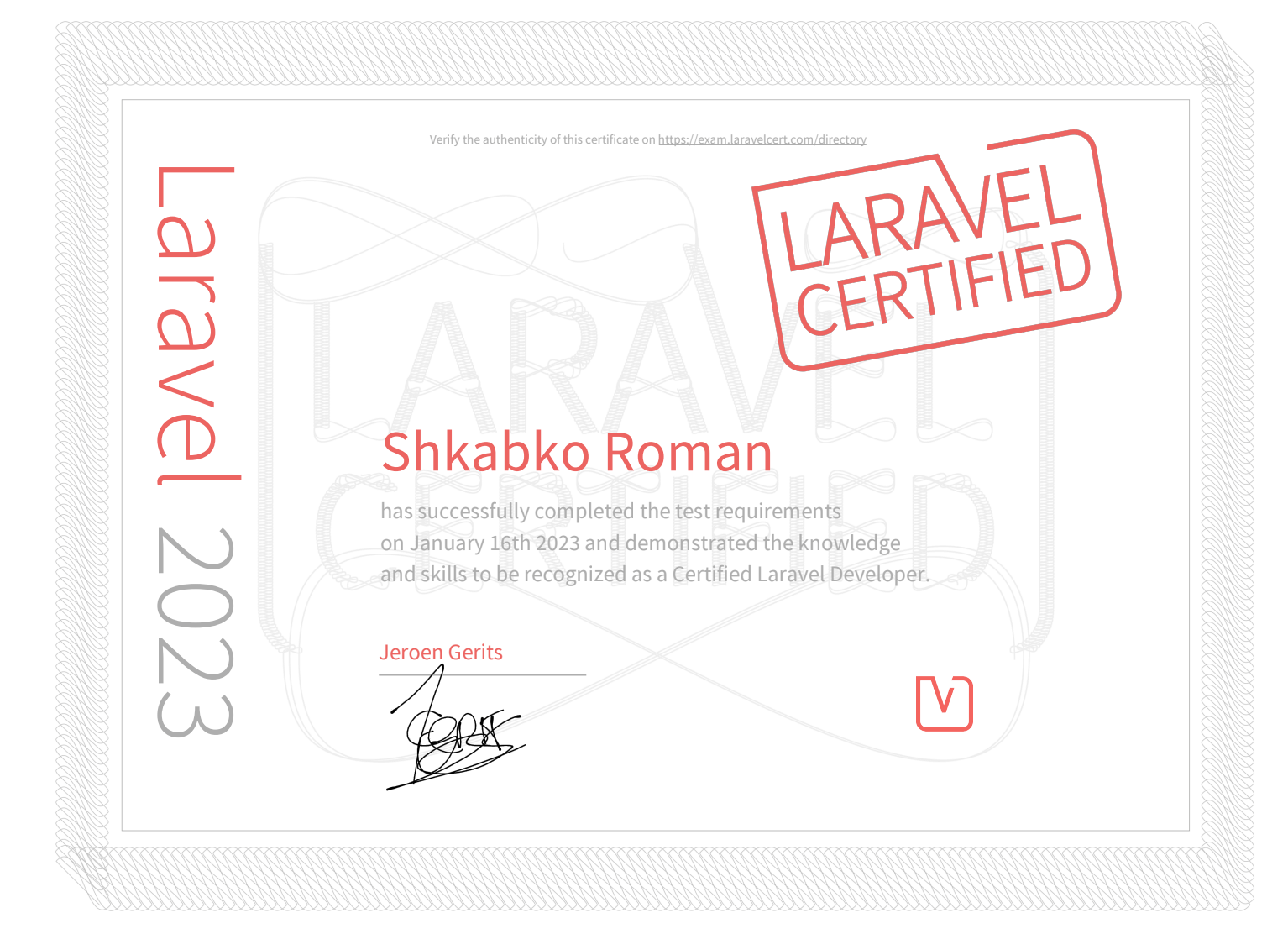 Laravel Developer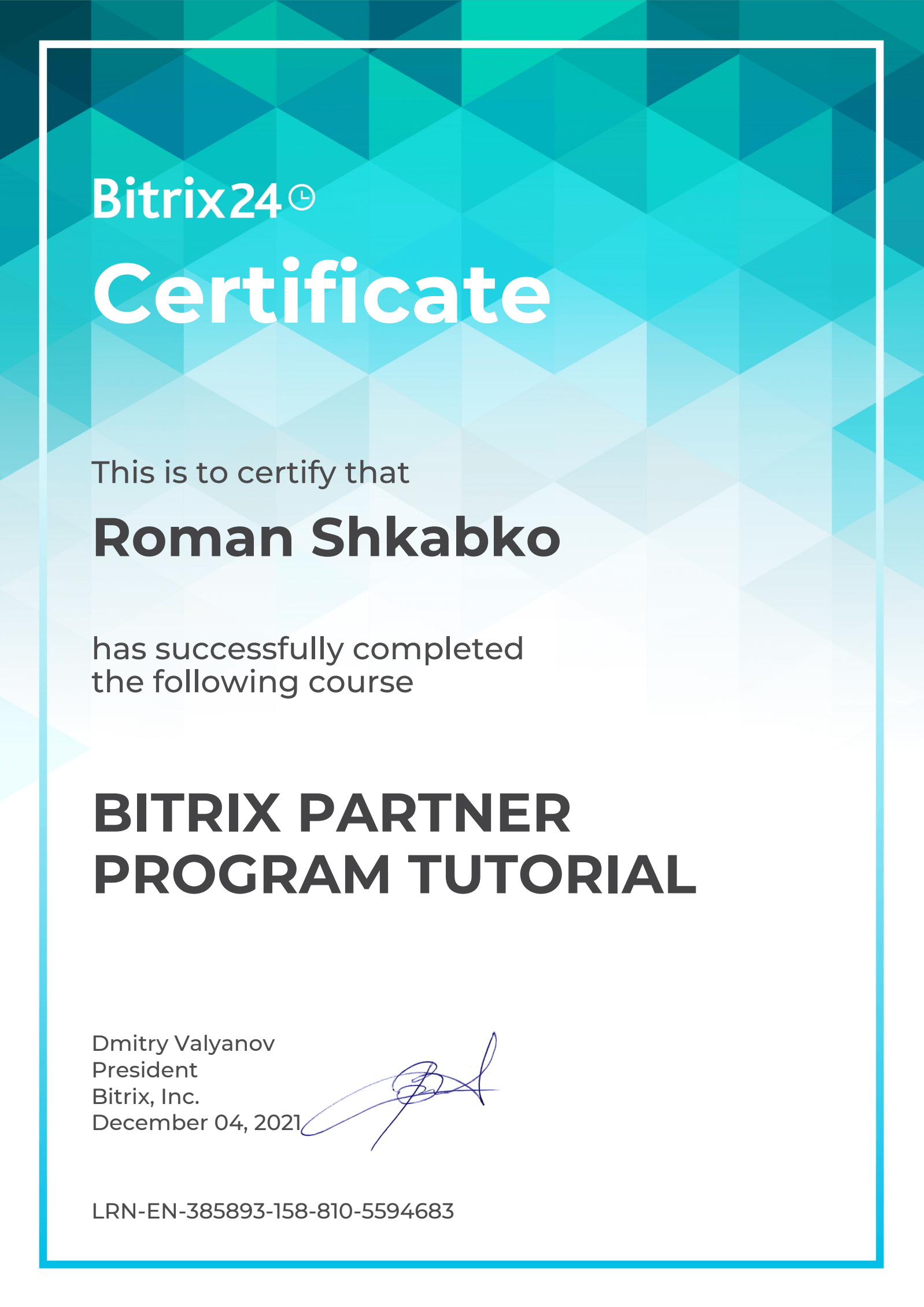 Bitrix24 Developer
Expertise
Historically, we have extensive implementation experience in these industries
#

eCommerce

#

Automotive and Logistics

#

Healthcare and beauty

#

Construction and repair

#

Industry

#

Education
#

Banking and finance

#

Design and architecture

#

IT & StartrUp

#

Sport

#

Cafes and restaurants

#

Tourism and entertainment
How will a CRM system improve your Business? Which one is better to choose? Show how it works for other companies?
Advantages
Highest partnership status
since 2013. Enterprise competence.
We configure servers for maximum performance. We support and
advise
Each employee is assigned to a manager with 2+ years of
experience in Bitrix24
When buying Bitrix24 through us,
we give 30% of the cost for our services and 3 months of hosting
We develop and support HighLoad projects. We love OOP and new technologies
Code standardization. We use
OOP, namespace, PSR-4, etc.
Documenting in PHPDoc
Convenient payment
and installments
We support most payment
systems, there is an installment
plan for Bitrix24
We have our own department for design, website development and promotion